How the SeasonMaster

®

Fuel Saving System Works
ENERGYMASTER® is an unfired make-up air system that during cold weather, will inexpensively eliminate negative air pressure in a building, by comfortably introducing unheated make-up air through its custom designed over head distribution duct systems. These systems will also inexpensively help meet clean air regulations. Our system designs will control air contaminants and use fewer CFM of make up air than other make up air systems, ENERGYMASTER® decreases, or in most cases, eliminates high cost make-up air fuel bills by 50 to 100%. Existing heated make-up air systems can be retrofitted to use the patented ENERGYMASTER® system. ENERGYMASTER® reduces hot weather indoor temperatures by evenly distributing cooler outside air downward to and the floor across the floor throughout the entire building and outdoors through strategically located wall exhaust fans. For air contamination control problems such as: welding smoke, oil mist,fumes, dust, excessive heat and humidity. The exhaust fans should be ideally located at worker level and installed at designated locations on the outside walls of the building. This configuration places the exhaust fans on one side of the contaminant and the fresh air on the other side of the contaminant. The make up air moves under the influence of the exhaust fans through the work space toward the outside walls. The air contaminants are pulled to the outside walls and are then exhausted outdoors through the exhaust fans. This prevents the contaminant from accumulating in the building in any quantity and ensures attainment of the best air quality possible under these conditions.
Some air contamination problems can be solved while at the same time reducing the amount of air that is being exhausted. Reducing both the amount of outdoor air being supplied and indoor air being exhausted will give you substantial fuel savings. This is especially true if roof exhaust fans are presently being used. EXAMPLE: During the heating season in the mid-western United States it takes a season average of 32,500 BTUH to heat 1000 cfm of make up air to a temperature of 65 degrees F.
COOLS IN SUMMER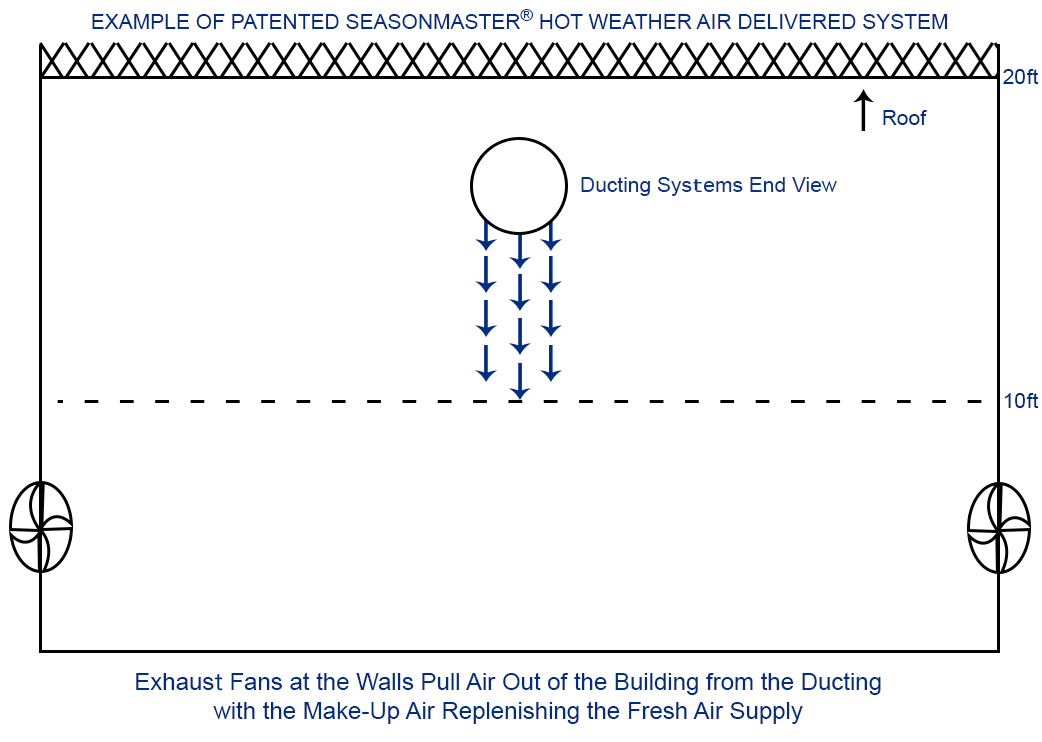 REDUCE MAKEUP AIR FUEL BILLS UP TO 100%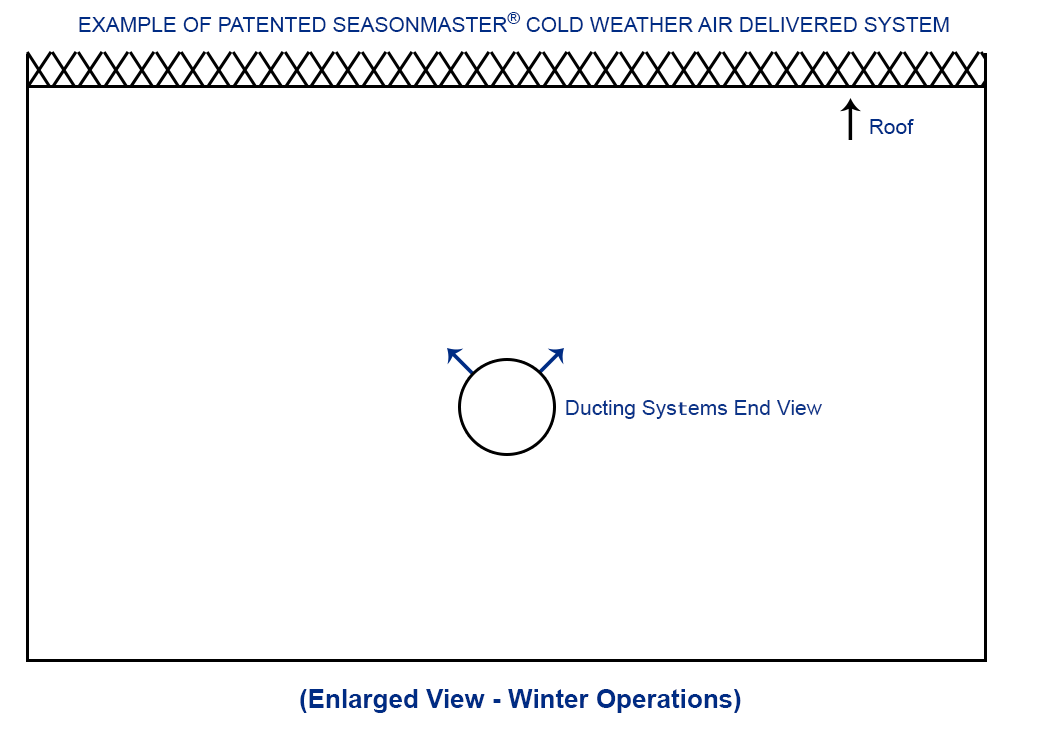 With the rising cost of fuel, Energymaster® equipment will bring a continual source of savings to add to your company's net profit. These benefits will allow you to save 50 to 100% of your present make-up air fuel bills, as well as your future fuel bills.
Typical Heated Make Up Air Systems Using the Patented SeasonMaster's® Fuel Savings System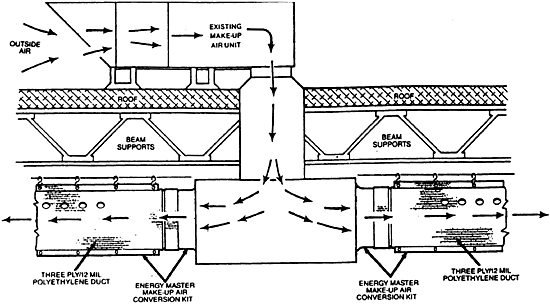 TYPICAL FURNACES AND HEATED MUA SYSTEMS: The hot air is left stratified leading to increased heat loss through upper walls and roof.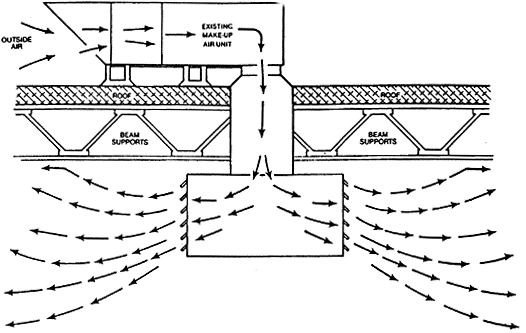 STOP WASTING MONEY BURNING FUEL – CONVERT YOUR INEFFICIENT HEATING SYSTEM TO OUR PATENTED SEASONMASTER SYSTEM.

STOP HIGH HEATING COSTS: Convert Ventilation Equipment (Heated and Cooled) saving on energy.

COOLS IN SUMMER
When the air delivery holes are positioned for summer operation, EnergyMaster® evenly distributes the cooler outside air toward the floor. This keeps the objectionable hot air stratified at the ceiling and delivers the cooler outdoor air downward towards the floor.

SPECIFICATIONS:

ENERGYMASTER

®

MAKEUP AIR UNITS
FRAMES: Shall be constructed of heavy duty welded structural angle iron to support weight of the unit. (12"
to 42" units 1-1/2"x1/8") and (48" to 72" units; 2"x2" x ¼")

CASINGS: Prime galvanized steel of 18 gauge forms the exterior housing with the interior frame being made up
of welded structural angles containing the fan and damper assembly.

PROPELLER FAN: Shall be a six bladed, welded steel, high efficiency propeller with reinforced steel gussets
extending from the hub three quarters of the blade length. These gussets are convexed and welded to the blade for increased rigidity
and strength to achieve higher air volume at lower rpm horsepower and sound. All fans shall be AMCA CERTIFIED for both air movement and sound.

DAMPERS: Unit shall have modulating fresh air and recirculating air dampers and be completely internally
wired for operation. Dampers shall be 16 gauge galvanized mounted in bronze bushings. (50% recirculating capability) (100% capability available)

AIR FLOW STRAIGHTENER: The air flow straightened will be welded construction with full air flow
straightening yanes and will include easy installation ring.

WIRING AND CONTROLS: Unit shall be complete and factory tested for all internal wiring. Field wiring to
consist only of a connection to terminal strip within control box.

WEATHERHOODS WITH BIRDSCREEN: The wall and roof hoods are large sized to reduce the static pressure
(resistance) and to keep the incoming outside air at a lower velocity to help eliminate snow and or rain being drawn into out units. (Insect screen available).
ENERGYMASTER

®

TUFF DUCT
THE PATENTED SEASONMASTER® HOT/COLD WEATHER CONTROL: Shall have the patented SeasonMaster® make up air direction controller, a built-in mechanism, controlled from the floor, that changes the direction of the air flow from the cold weather upward duct position to the warm weather downward duct position. This mechanism must be operable from the floor. (motorized actuator available)

DISTRIBUTION DUCT: SeasonMaster Tuff Duct® shall be available in thicknesses from 6 to 12 mil, three ply, woven polyethylene material and flame resistant to meet CPAI 84 section 6 and UL listed to meet NFPA 701.
Heavy duty reinforced seams that area double stitched through four layers of material. Metal or plastic snap hooks are sewn to the top of the duct to provide easy installation to the support cable. The air delivery holes in the duct shall be heat-sealed in such a manner to prevent future weave fraying around the distribution holes.

HOT/COLD WEATHER DUCT PUNCHING: All holes are custom punched to your building's requirements.

WARRANTY: One year limited warranty.

BASE BID MANUFACTURER:

ENERGYMASTER
105 LIBERTY ST,
WALLED LAKE, MI 48390
PHONE (248) 624-6900 FAX (248) 624-6975

Convert Your Make-Up Air Units to the EnergyMaster System and:

Shut Off Your Make Up Air Unit's Burners
Utilize Wasted Strtified Air at the Ceiling , Heating Your Make-Up Air
Additional Fuel Maybe Not Be Needed for the Entire Heating Season!

To Convert your Gas Fired, Electric or Steam Make-Up Air Systems.

To convert a 10,000 CFM make-up air unit including: The Patented SeasonMaster, 1-Air Flow Straightener with 1-100 Foot 38″ Patented Tuff Duct and 1-Clean Out Zipper

To convert a 15,000 CFM make-up air unit including: The Patented SeasonMaster, 1-Air Flow Straightener with 1-100 Foot 38″ Patented Tuff Duct and 1-Clean Out Zipper

To convert a 20,000 CFM make-up air unit including: The Patented SeasonMaster, 2-Air Flow Straighteners with 1-125 Foot 44″ Patented Tuff Ducts and 1-Clean Out Zippers

To convert a 30,000 CFM makeup air unit including: The Patented SeasonMaster, 1-Air Flow Straightener with 1-125 Foot 50″ Patented Tuff Duct and 1-Clean Out Zipper

To convert a 40,000 CFM makeup air unit including: The Patented SeasonMaster, 2-Air Flow Straighteners with 2-125 Foot 44″ Patented Tuff Ducts and 2-Clean Out Zippers

To convert a 50,000 CFM make-up air unit including: The Patented SeasonMaster, 3-Air Flow Straighteners with 2-125 Foot 50″ Patented Tuff Ducts and 2-Clean Out Zippers

To convert a 60,000 CFM make-up air unit including: The Patented SeasonMaster, 3-Air Flow Straighteners with 3-125 Foot 44″ Patented Tuff Ducts and 3-Clean Out Zippers

To convert a 70,000 CFM make-up air unit including: The Patented SeasonMaster, 3-Air Flow Straighteners with 3-125 Foot 50″ Patented Tuff Ducts and 3-Clean Out Zippers

To convert a 80,000 CFM make-up air unit including: The Patented SeasonMaster, 4-Air Flow Straighteners with 4-125 Foot 44 " Patented Tuff Ducts and 4-Clean Out Zippers

To convert a 90,000 CFM makeup air unit including: The Patented SeasonMaster, 4-Air Flow Straighteners with 4-125 Foot 50″ Patented
Tuff Ducts and 4-Clean Out Zippers,

To convert a 100,000 CFM make-up air unit including: The Patented SeasonMaster, 4-Air Flow Straighteners with 4-125 Foot 50″ Patented Tuff Ducts and 4-Clean Out Zippers