Common sense solutions to common industrial ventilation problems are what we provide at EnergyMaster®. Our proven industrial air control designs are based on nearly 40 years of field experience and using the proven guidelines that we have developed over those years, as well as, from the "Industrial Ventilation Manual Of Recommended Practice" by the American Conference Of Governmental Industrial Hygienists. We've routinely saved industrial/manufacturing companies from 33% to 100% on fuel bills for their gas fired make-up air equipment by converting to the EnergyMaster® system. The EnergyMaster's® conversion system return on investment is typically between ½ and 1 1/2 heating seasons depending on how many shifts were being worked and the cost of fuel. We've solved many air ventilation problems that were once viewed as "unsolvable" or just "too expensive" to correct . EnergyMaster® make-up air systems with our patented SeasonMaster® feature can be the better answer for many of your industrial air problems. It's all about the proper design which leads to the successful inexpensive, efficient solution that you can expect from EnergyMaster®. Let us help you with your problem today.
Some of the Premier Companies that Have Relied on EnergyMaster® for Their Make-Up Air Control Solutions
| | | |
| --- | --- | --- |
| | | |
| | | |
| | | |
| | | |
| | | |
| | | |
| | | |
| | | |
| | | |
| | | |
| | | |
| | | |
| | | |
| | | |
| | | |
EnergyMaster's One Year Warranty
EnergyMaster® equipment is warranted to be free from defects in material and workmanship for a period of one year from the purchase date. Any units or parts thereof, which upon our inspection prove to be defective during the warranty period, will be replaced at our option. All equipment returned for warranty consideration must have prior written authorization. All labor and transportation costs are excluded. Motors are warranted by the motor manufacturer for a period of one year. Should a motor prove defective during this period, it must be returned to the nearest authorized motor service station. We are not responsible for any damage incurred in transit. Merchandise shipped from our facilities is signed for by the transpotation company in perfect condition. The aforesaid warranty against defects in material and workmanship, is in lieu of all other warranties expressed or implied, and there are no other warranties of any kind whatsoever.
A Message From the President Mr. Erik F. Hall:
"If you have a problem or any question that's not covered by this page, please feel free to call or email me direct."
Sincerely,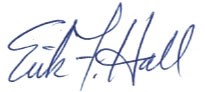 Erik F. Hall
President, EnergyMaster.