ENERGYMASTER

®

 VENTILATION EQUIPMENT
Inexpensively converts any existing Make-up air andHeating, Ventilating, Air Conditioning Systems

Eliminates wasteful gas consumption


Utilizes the wasted heat at the ceiling
EnergyMaster® make-up air conversion units with the patented SeasonMaster® hot/cold weather air direction controller will convert any size fired make-up air equipment to our unfired system. It uses all of your building's stratified wasted heat before any additional fuel is burned. The air is better circulated throughout the workplace. After being converted, most fired make-up air unit burners do not fire at all!
Average Return On Investment: ½ To 1 ½ Heating Seasons
EnergyMaster's installed cost is substantially less than the cost of a fired make-up air system and will return its investment within one and one half heating seasons or less.
Over 3500 Systems Installed Nationally in Plants From Automotive, General Manufacturing, and Commercial Product
ELIMINATE or CONTROL:
Negative Air Pressure on Throughout Entire Plants / Factories. EnergyMaster

 

brings outside make-up air into a building through its unique distribution duct system. It uses up to 100% of the stratified heat at the ceiling which is otherwise wasted when it is lost through the roof.

Carbon Monoxide, Welding Smoke, Fumes, Mist, Dust, Odor — EnergyMaster controls or replaces plant air contaminants while exhausting them outside. Low velocity fresh air remains circulating throughout the workspace. The most direct method is utilized so a minimal amount of CFM is used to control these air contaminants
Dead Air Spots
Overheated Floor Areas.
Inexpensively moves excessive objectionable heat to distant areas that can utilize it.
Cold, Drafty Floors
Other Indoor Air Quality / Ventilation Problems
REDUCE MAKEUP AIR FUEL BILLS UP TO 100%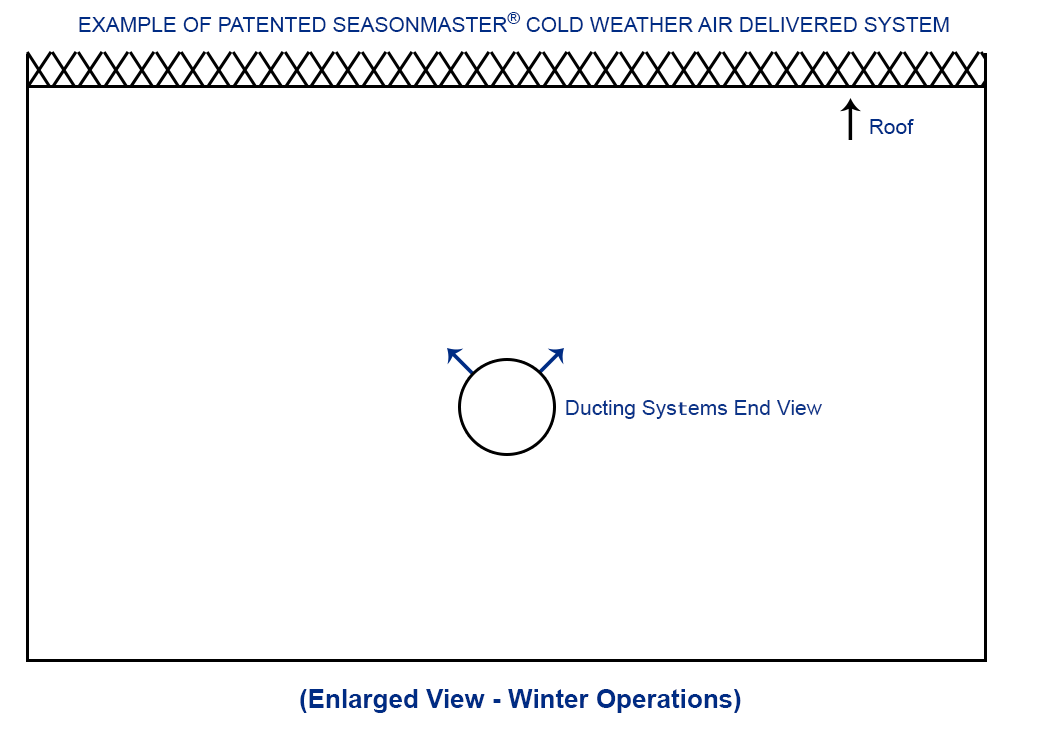 When the air delivery holes are positioned for winter operation, EnergyMaster evenly distributes the outside air upward, blending it with the stratified hot air at the ceiling. This mixing action tempers the incoming make-up air without using additional fuel.
COOLS IN SUMMER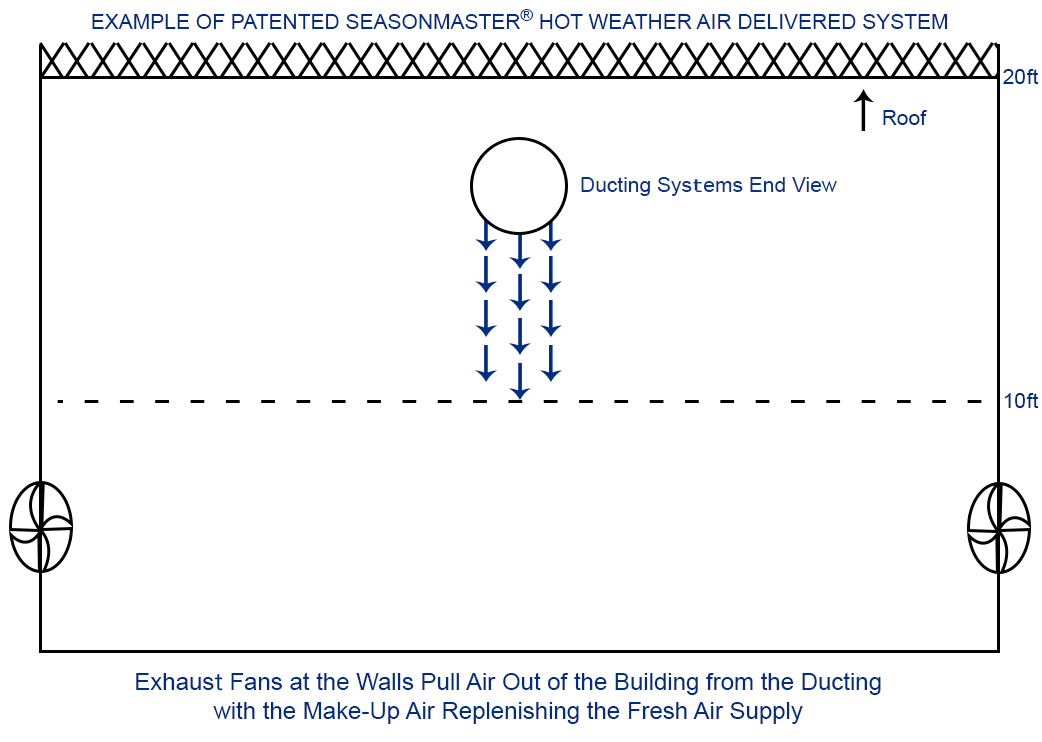 When the air delivery holes are positioned for summer operation, EnergyMaster evenly distributes the cooler outside air toward the floor. This keeps the objectionable hot air stratified at the ceiling and delivers the cooler outdoor air downward towards the floor.
Roof & Wall Make-Up Air Units Available. EnergyMaster's Configuration Can Easily be Changed Simply & Quickly from the Plant Floor. Manual or Motorized Remote Control Available.
EASILY MAINTAINED – QUICKLY CHANGE BETWEEN HOT AND COLD WEATHER OPERATION
Previously many man hours were required to rotate the ducts each season. Now the patented SeasonMaster floor operated air direction controller allows quick duct position changes between the hot and cold weather air delivery positions, no matter how often the outdoor temperatures demand it.
NOTE:- During hot weather the air holes must be positioned downward to prevent the stratified ceiling heat from being forced down to the floor thereby overheating the workspace.
ADDITIONAL ENERGYMASTER MAKE-UP AIR SYSTEM BENEFITS
More Comfortable and Productive Employees
Helps Meet Clean Air Regulations Inexpensively. When EnergyMaster evenly distributes outside make-up air throughout a building in conjunction with an adequate exhaust system, it uses the minimum amount of outside make-up air possible to reduce the air contamination concentration (PPM) to an acceptable level.
Air Contaminants Controlled With Less Exhaust Air. EnergyMaster strategically delivers make-up air throughout your plant in relation to the contamination source. Therefore, the amount of air exhausted can be significantly reduced while maintaining clean air conditions. For example, in northern Ohlo and southern Michigan, each 1000 cubic feet of exhaust air reduced, provides a savings of 25,000 to 50,000 BTU's per hour.