REDUCE MAKEUP AIR FUEL BILLS UP TO 100%
When the air delivery holes are positioned for winter operation, EnergyMaster® evenly distributes the outside air upward, blending it with the stratified hot air at the ceiling. This mixing action tempers the incoming make-up air without using additional fuel.
EnergyMaster® make-up air conversion units with the patented SeasonMaster® hot/cold weather air direction controller will convert any size fired make-up air equipment to our unfired system. It uses all of your building's stratified wasted heat before any additional fuel is burned. The air is better circulated throughout the workplace. After being converted, most fired make-up air unit burners do not fire at all!

TYPICAL FURNACES AND HEATED MUA SYSTEMS: The hot air is left stratified leading to increased heat loss through upper walls and roof.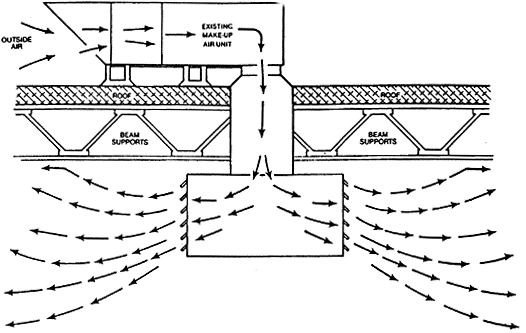 STOP WASTING MONEY BURNING FUEL – CONVERT YOUR INEFFICIENT HEATING SYSTEM TO OUR PATENTED SEASONMASTER SYSTEM.

STOP HIGH HEATING COSTS: Convert Ventilation Equipment (Heated and Cooled) saving on energy.

Allowing complete control over the airflow direction throughout your building. The system will utilize the otherwise wasted heat which presently being transmitted through the roof and lost.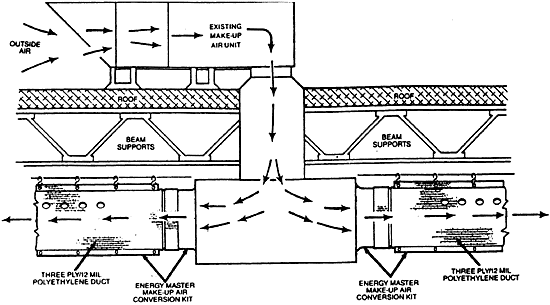 COOLS IN SUMMER
When the air delivery holes are positioned for summer operation, EnergyMaster® evenly distributes the cooler outside air toward the floor. This keeps the objectionable hot air stratified at the ceiling and delivers the cooler outdoor air downward towards the floor.

Click Here to See How EnergyMaster® Works